We had a pretty typical day around here.  ECFE for the kids, playing at home, a Pinterest project during nap, and I even got to escape for some adult time with some ladies at a friend's Scentsy party (and a late night run to the local grocer for a raspberry sherbet craving).  It was a good day…AND my last first day as a mom of 2.  Next month "Tiebreaker" here will be making a first day blog appearance.
Side Note: Tanner has been obsessed with this size 12 month red tutu skirt of Emmy's that I tried packing away.  I convinced him not to wear it to school but has been rocking it a majority of this week.
(Yep, THIS is downtown Barnum)
Water and sand table
(38 weeks down- 2 or so to go)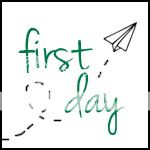 That's a look at my day.  Click on the button or click HERE to check out the first day of some other awesome bloggers.